10 Best Poodle Mixes for Families and Kids
By Mawoo Pets · 2 Aug · 11 min read
Have you been thinking about adding a new furry family member to your household? If you have kiddos, you're probably taking some extra time considering what type of dog would fit in best with your family–and focusing especially on Poodle mix breeds!
Poodle mixes, lovingly called Doodles, are intelligent dogs with an eagerness to please and be part of family life. They're often easier to train than other breeds and can learn to understand voice commands as well as body language. And as a mixed breed, they can have fewer health issues compared to purebred dogs.
Of course, getting a new dog is a big commitment, so it's only natural that you'll want to do your homework. Let's explore the best Poodle mixes for families and kids, look at why they're an exceptional choice, and talk about how to find the right Doodle puppy for you.
Do Poodle Mixes Make Good Family Pets?
What makes a good family dog? For most people, it's a well-mannered, friendly dog that gets along well with kids and other pets. There's no doubt that growing up with a dog provides a number of benefits, but not every dog will be the right fit for your family.
Sometimes called designer dogs or crossbreeds, Poodle mixes have a number of qualities that make them good family pets, including relaxed and intelligent personalities. Doodles often inherit the low-shedding, hypoallergenic coat quality of their Poodle parent, which is crucial if someone in your family suffers from allergies or asthma.
Purebred Poodles also tend to be more relaxed and easy-going than other dogs, and are one of the most intelligent dog breeds. When you mix them with a more excitable breed, like an Australian Shepherd, for example, you can get the best of both breeds in a fluffy, adorable and laid-back Aussiedoodle.
Doodles enjoy an active lifestyle and are eager to romp in the backyard with the kids, but they're often more laid back indoors as long as they're getting regular exercise. Since Poodles come in multiple sizes, you can find Doodles in just about every size, from the tiny Shih-Poo to the giant Bernedoodle.
Of course, every dog needs attention, proper training, socialization and exercise to reach its full potential, but Poodle mixes are known to be loving and affectionate family pets who get along well with small children, older kids, and other animals.
Regardless of which Doodle breed you choose, it's important to educate your children about how to properly interact with your new dog. This is especially important for smaller breeds who could be easily injured by rough play.
Best Poodle Mixes for Families and Kids
Here are some of the most popular Poodle mixes for kids and families, in no particular order.
1. Labradoodle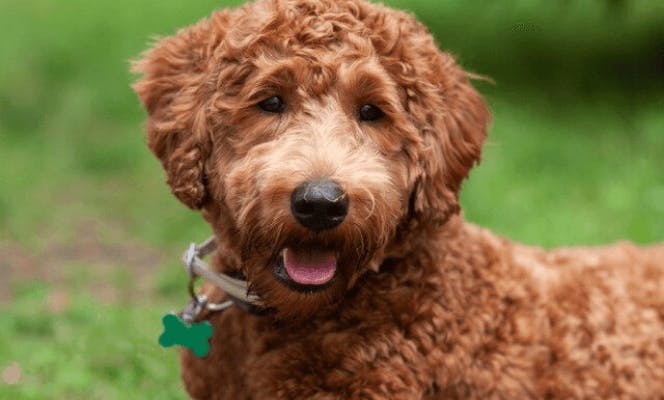 The Labradoodle is one of the most popular poodle mixes for families, and it's easy to see why. The combination of the Labrador Retriever's loyalty and playfulness, plus the easy manageability of a Standard Poodle makes this breed the ideal poodle mix for kids.
This mix produces a teddy bear-like pooch with boundless energy and affection for its human family. Known to be playful and smart, Labradoodles need daily mental and physical stimulation. Long daily walks and plenty of room to romp are a must for this active dog.
That being said, Labradoodles come in different sizes, and there's a size that's suitable for every lifestyle. While a large Labradoodle can weigh as much as 65 pounds or more, the Mini Labradoodle comes in at about 15 pounds, so it doesn't need nearly as much space for exercise.
Depending on the coloring of the Labrador Retriever and Poodle parents, Labradoodles can be almost any color or combination of two colors. Their excellent social skills extend to everyone, from beloved family members to total strangers. They're also ideal service and therapy dogs for children with special needs.
This breed is gentle and sturdy, making it a great choice for families with babies and toddlers. They have enough energy to keep up with children and adults of all ages, but they're happy to snuggle up for an afternoon nap on the couch, too.
2. Cavapoo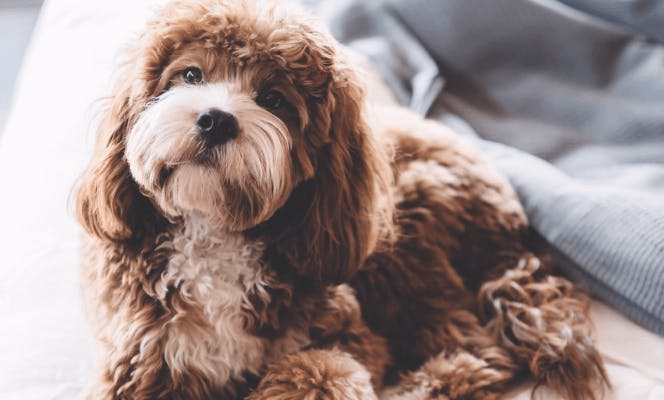 The Cavapoo is a cross between a Cavalier King Charles Spaniel and a Miniature Poodle. This mix results in a loving little dog that's full of personality. Weighing in at around 15 to 20 pounds, they're one of the smaller Poodle mixes on our list.
This high-energy Doodle breed craves attention and enjoys people of all ages, as well as other animals. However, proper training and socialization in puppyhood are especially important for preventing timidness and social anxiety as your Cavapoo gets older.
These small dogs are extremely intelligent and energetic. Cavapoos are a great choice for apartment dwellers who enjoy long walks and trips to the park for a game of fetch. At the end of the day, this is one of the best Poodle mixes for families who want a well-rounded companion.
3. Goldendoodle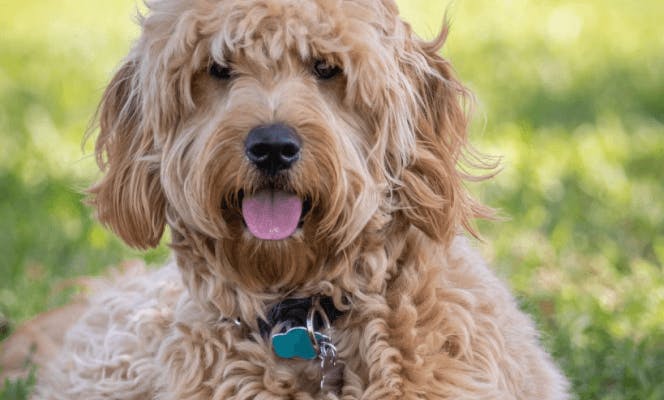 The Goldendoodle is a popular dog breed for families that want a playful and adventurous companion. The offspring of a Golden Retrieverand a Standard Poodle, the Goldendoodle is always up for a swim, a game of fetch, or a hike through the woods.
Goldendoodles are great for first time owners and make excellent playmates for kids. They're extremely smart, highly trainable and very loyal, with coats that range from curly or wavy to straight and silky.
This breed's extremely friendly nature makes it a great choice for families, but don't count on it to be a watchdog. Goldendoodles tend to bark most when they're feeling playful and excited, but with patience, they can be taught to rein in that instinct.
4. Shih-Poo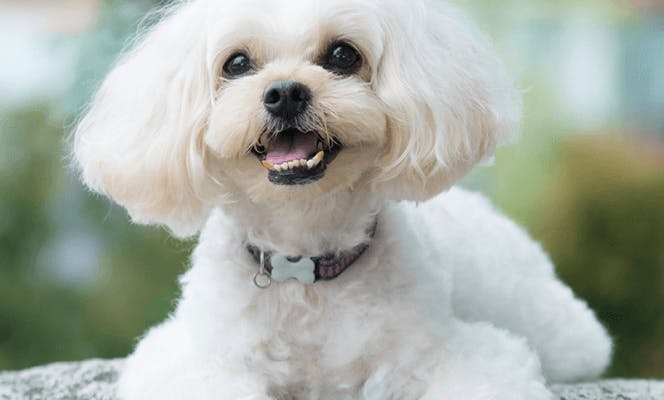 The Shih-Poo is a cross between a Teacup or Toy Poodle and a Shih Tzu. This clever, quiet, and affectionate breed weighs around eight to 15 pounds and comes in a variety of coat colors. Shih-Poos are family-oriented and easily adaptable to many lifestyles.
Shih-Poos require only moderate exercise and they get along well with children and other pets, making them a popular Poodle mix dog for families. They can be eager to please (like their Shih Tzu parent), easy to train and small enough for apartment living.
This breed loves to sit on your lap, lounge on the couch, or sleep nearby. But it's also playful and energetic enough for the occasional game of fetch and daily walks in the park. Regular grooming is required to maintain this small dog's abundant coat, but shedding is minimal.
5. Bernedoodle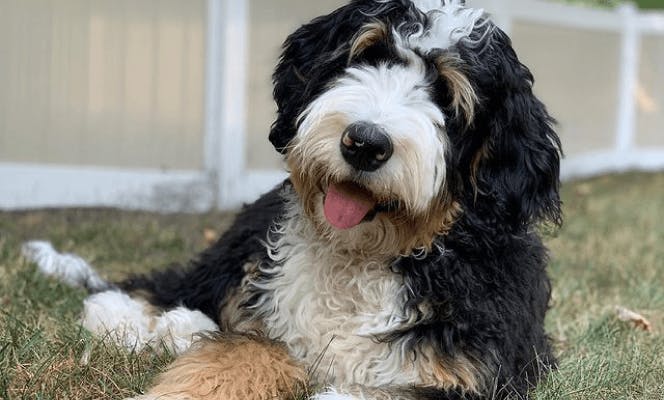 If you're looking for a calm, fluffy cuddle buddy, this Poodle mix should be at the top of your list. Standard Bernedoodles are gentle giants, while Mini Bernedoodles offer the same traits in a smaller package, so there's a size to suit every family and living situation.
This gentle breed is a cross between the Bernese Mountain Dog and the Poodle. It's loving and affectionate, always up for a good snuggle, and also happy to tackle a hike through the woods with equal enthusiasm. In fact, Bernedoodles tackle everything in life with a joyful abandon that often gets them labelled as goofy. In actuality, they're extremely smart!
Though one of the calmest poodle mixes, Bernedoodles prefer not to be left alone for too long. They're also fiercely loyal and protective while remaining calm and gentle with family members. This breed is a great choice for families who want a Poodle mix that can serve as a guard dog and a companion.
6. Cockapoo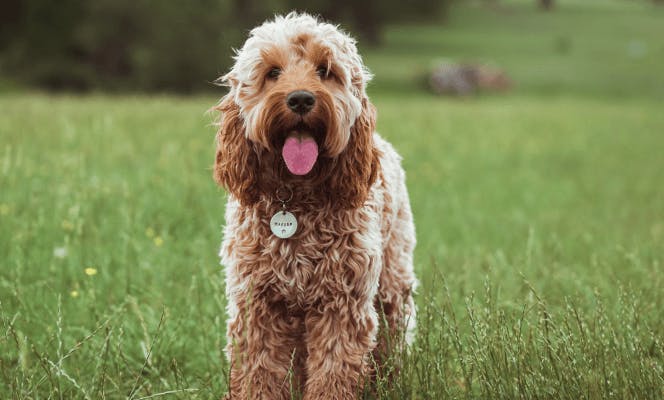 Weighing in at around 15 to 20 pounds, the Cockapoo is sturdy enough to keep up with the kids, but still small enough to be a lap dog. This Cocker Spanieland Poodle mix is happy to cuddle, loves attention, and is smart enough to pick up on its training quickly and effectively.
If you have older kids who want to help train their new puppy, the Cockapoo is a great choice. This breed has a moderate energy level, so a long walk or romp in the yard every day will keep it content and healthy.
As an added bonus, Cockapoos tend to do very well in apartments and smaller homes. They're also easy to potty train, which is something any busy parent can appreciate.
7. Maltipoo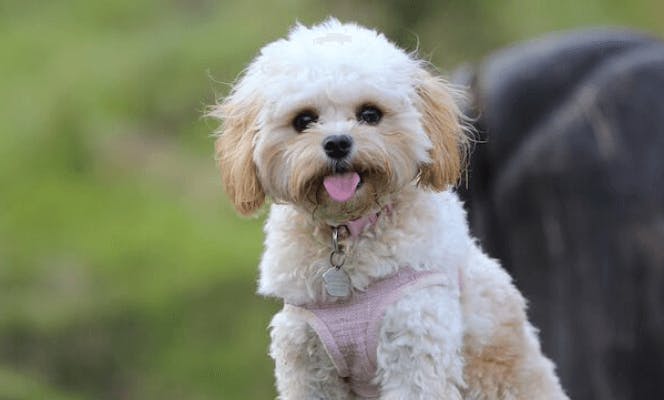 Weighing in at around five to 10 pounds, the little Maltipoo is an adorable cross between a Maltese and a Toy or Miniature Poodle. This breed is friendly, gentle and loving, as well as playful and mild-mannered. Maltipoos go with the flow and simply enjoy being with their human family.
This breed only requires moderate exercise, so it's a great choice for families who want a dog that's easy to care for. Regular haircuts and consistent brushing are required to keep the coat looking its best, but a shorter hairstyle will keep things fairly low maintenance.
It's important to note that the Maltipoo is more vulnerable to injury from rough handling due to its smallerdoodle size. Young children should be supervised and taught to interact properly with this breed right from day one.
8. Aussiedoodle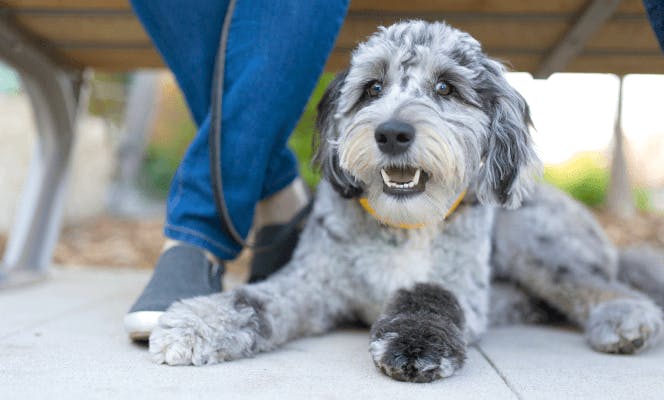 Aussiedoodles are a cross between two of the world's smartest breeds–the Standard Poodle and the Australian Shepherd. This breed averages around 45 pounds, but there are Mini Aussiedoodles available that can be as small as 18 pounds.
This Doodle breed thrives on an active lifestyle with plenty of physical activity, so it's a great fit for families with older children who need an energetic playmate. They also make for great hiking companions. That said, Aussiedoodles tend to be relaxed indoors, as long as they're getting regular exercise and mental stimulation each day.
Aussiedoodles usually have a dense coat of wavy to curly hair and can come in a range of colors. Shedding is typically minimal, especially with regular brushing and occasional haircuts. Overall, this breed makes for an affectionate, even-tempered companion for families with kids.
9. Sheepadoodle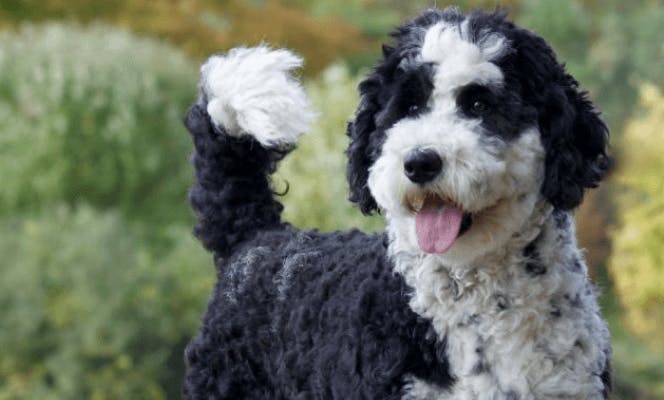 If you're looking for a big-hearted, goofy Doodle mix that's also intelligent and easy to train, consider a Sheepadoodle. This Old English Sheepdog/Standard Poodle Mix is known to be very well behaved with a mild, calm nature. They're rarely agitated, especially if they're getting enough exercise.
Sheepadoodles are large size dogs, typically weighing around 60-80 pounds. They have fluffy, curly fur and an endearing, teddy bear-like appearance. This larger dog combines the low shedding and friendly disposition of a Poodle with the intelligence and active nature of a Sheepdog.
10. Havapoo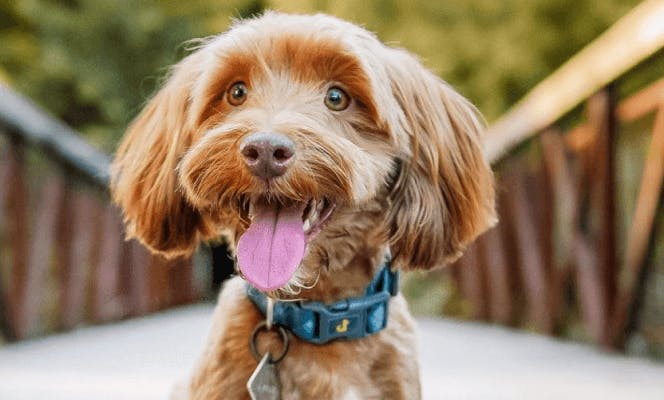 Sometimes called a Havadoodle, the Havapoo is a cross between a Miniature Poodle and a Havanese. These adorable little Doodle dogs are full of playful personality, but they're also extremely smart, making them a versatile Poodle mix for families and kids.
The Havapoo is a gentle and affectionate designer dog that boasts the best characteristics of both parent breeds. They love a good cuddle, but they're also very alert and likely to bark when something is amiss. They do well with other animals, children and people in general.
The Havapoo is the perfect Poodle mix for apartment dwellers since it's fairly easy to meet their exercise needs. They come in a variety of colors and color combinations, with curly, wavy or silky coats that require regular grooming.
What Other Poodle Mixes Are There?
While we have listed some of the most popular Poodle crossbreeds for families, there are other hybrid breeds worth mentioning who make loving and affectionate family dogs.
Irish Doodle - Combination of Irish Setter and Poodle, this mixed breed is very intelligent and active, and a perfect match for families wanting a hunting companion.
Poochon - Mix of the Bichon Frise with Poodle, this small breed is a good fit for first time owners looking for a loving and affectionate furry friend.
Bossi-Poo - This hybrid of Boston Terrier and Poodle is a toy breed that is smart, family-friendly, and perfect for small apartments.
Schnoodle - This mix of Miniature Schnauzer and Poodle makes for an excellent family dog with plenty of love, loyalty, and affection.
The Importance of Choosing an Ethical Breeder
There's a lot of controversy around designer dogs and crossbreeding, so educating yourself and working with an ethical breeder is a must. The first thing you need to know is that crossbreeding has been practiced for centuries.
In fact, it's how most of our beloved purebreds came into existence. Crossbreeding offers a way for breeders to bring out certain traits in dogs while moving away from others. When done responsibly, it can be a wonderful way to create new breeds with specific desirable traits.
For example, hunting breeds have been bred throughout history for speed, agility and their ability to detect specific scents. Working dogs have been bred for endurance and strength, and herding dogs have been bred for intelligence, independence and bravery.
It takes many generations of consistent breeding to produce what we consider a purebred dog. The Doodle breeds on our list are not mutts. They're crossbreeds that come from two purebred parents, and they can even be registered with AKC's Canine Partners Program.
Ethical Doodle breeders are working hard to produce hybrid Poodle mixes that are healthy and have a combination of positive traits from both parent breeds. Their puppies are well socialized, receive proper health care, and are consistently trained using positive reinforcement methods.
If you're concerned about the ethics of purchasing a mixed-breed dog, consider getting your Doodle puppy online through Mawoo. We are dedicated to upholding the best practices in the pet industry and are conscientious of our responsibilities to animals and customers at every step. We only work with caring breeders who have been vetted to ensure responsible breeding practices.
Which Poodle Mix is Right for Your Family?
Poodle mixes are becoming a fast favorite for families with kids of all ages. With their wide range of sizes and coat types, sweet temperaments and easy trainability, Doodles can fit into most lifestyles and living situations.
That being said, there are close to 40 different types of Poodle mixes to choose from, and each one has its own unique set of characteristics to love. If you're still not sure which Poodle mix is the right fit for your family, take our Puppy Match Quiz to help you narrow down your options!
Any questions? Get in touch!
We are here to support you every step of the way. Our concierge service is here daily to answer your questions!

Chat or speak with our team Mon-Sat 9a-9p ET.
Ready to find your new best friend?