How to Buy a Puppy Online Safely
By Mawoo Pets · 7 Feb · 9 min read
Buying a puppy online can be a fun and rewarding experience, but it's important to be careful out there. Anyone can technically list puppies and other pets for sale without following the same requirements as trusted, experienced breeders and vendors. Remember, buying or adopting puppies online is not a quick transaction. Take your time and make a good decision!
Precautions make it more likely that you and your new puppy will be happy in the end. Here are some tips on how to buy a puppy online safely and avoid scams, puppy mills, and other issues.
Start With a Responsible Website
Understanding how to safely buy a puppy online starts with a breeder's or vendor's website. It may also start with an advertisement featuring a picture of a puppy for sale. Whatever the case, the first impression you get from a breeder is your first chance to start evaluating their quality as dog breeders.
In many cases, you might notice during your search for a puppy that there is no official website or even a company name listed. That's not a good sign. If you can't look up customer reviews or a Better Business Bureau listing, strongly consider selecting a different breeder. Puppy scams are common on sites like Craigslist, and you should be cautious. You never know what an untraceable breeder might be hiding.
Identifying a Reputable Breeder
Noticing the differences between good and bad breeders takes a little bit of time and attention.
Ask About Licensing and Registration
All dog breeders in the US, the UK and many other countries are technically required to have a license. In Canada, households with more than 4 dogs are required in most provinces to register as a breeder, or lower the number of pets on premises.
Ask your breeder, in whatever country they may operate, whether they are licensed and registered as a formal dog breeding organization. If so, you'll know that their business adheres to the breeding guidelines of the licensing body, such as the Canadian Kennel Club or the American Kennel Club.
Talk to the Breeder by Phone or Video Chat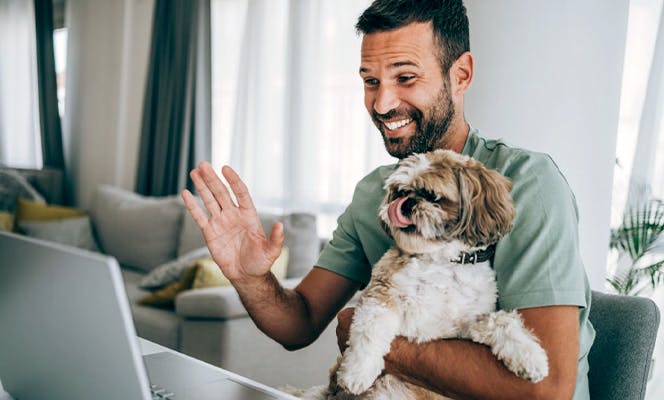 Have a chat with the dog breeder you're interested in buying from and ask questions about the puppies you like best. This is the perfect chance to ask questions such as, "How big will he be as an adult?" Or, "What are you feeding him? Should I feed him the same type of food as he gets bigger?"
Choose a Breeder Who Asks You Questions and Has an Application Process
If you're nervous about how to figure out if a breeder is on the level or not, here's a good tip: Pay attention to their level of engagement with you. Good breeders put in a lot of work to make sure their puppies are as happy, healthy and adoptable as possible—and they don't want to sell those puppies to just anybody. That means good breeders are going to ask you lots of questions!
They want to know who you are, and what your home is like. They'll want to make sure that you know how to care for a puppy, and that your home environment is suitable for a pet. The breeder you speak to about a specific puppy might even drop by your house for a visit just to see for themselves if it is set up to properly to welcome and care for a dog.
A home visit—whether in person or via video chat—will likely be part of the application process for buying a puppy. If there is no application process, take a step back. Ask yourself, why wouldn't a caring person want to know as much as possible about where their precious puppy is going to live, and with whom? Wouldn't you want to know everything you could about the person who wants to buy a puppy you have known since its birth?
No questions from a breeder, and the lack of a formal application process, are usually red flags for less-than-ideal breeding conditions. Take a look around the internet to see if there are any customer reviews on the breeder in question, or any information at all. Do your best never to support the puppy mill industry. Not only could bad breeders give you an unhealthy or poorly socialized puppy, but there are probably more neglected dogs behind every potential puppy sale.
Sign a Well-Defined Contract
The contract part of a puppy sale might sound scary, but it doesn't have to be. In fact, the contract is another sign that the breeder truly cares about the wellbeing of its animals. Contracts are used to make sure that you get a top-quality dog, and that the dog gets top-quality care.
Contracts are also written up to formalize certain agreements within the sale, such as the breeding of the puppy. Since pure-bred dogs require paperwork from a kennel such as the AKC, your contract should include the dog's kennel registration number. It should also include the names and registration numbers of the puppy's parents.
Even pure-bred pets aren't always considered top breed specimens, which is why a contract will list your puppy as either "pet quality" or "show quality." "Pet quality" puppies have physical characteristics that don't perfectly conform to the ideal form of the breed. For example, maybe its ears are a little floppy instead of perfectly erect. "Show quality" or "show potential" puppies conform to the breed standard exactly and can be entered in dog shows.
A breeder contract also should include a "return to breeder" clause. This is a legal agreement you make with the breeder to return the puppy to them if for any reason you decide not to keep it. That means if you move and can't take your dog, or don't have enough money to care for it properly, or if you don't enjoy dog ownership, you cannot resell or give him away.
How to Buy a Puppy Online Safely
Buying anything online can be confusing and worrying—not to mention when the product is a living creature. Before you press the "buy" button, do everything you can to make sure the company in question is one with the best interests of animals and customers in mind. It's not always easy to see the difference between a good breeder and a not-so-good one, so here are a few ways to get the info you need.
Visit the Puppy In-Person if Possible or Schedule a Video Call
Get all the information you possibly can about a potential new member of the family! Ask all the questions you want and expect good answers from a good breeder. It's also a great idea to go and meet the puppy you like in-person. While you're there, ask to meet the doggy parents, too. Make sure they all look healthy and have plenty of clean space to play.
Ask about the Puppy's Health History and Pedigree
Do yourself a favor and do some research about the common health issues concerning your potential new puppy's breed. Bring up your research while talking with a breeder and ask whether those problems have been an issue with any of the puppy's family members. You need to know the likelihood of health problems in the future and keep in contact with owners and veterinarians who have helped overcome them.
Health Certificate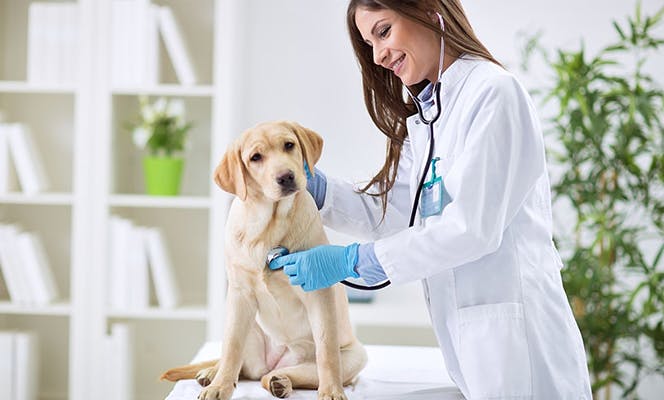 The health certificate of your new puppy is essential to any good sales contract. It shows vaccinations, training, spay or neuter status and health checks with veterinarians. This is proof that you are buying a dog in good health. If you like, it's a good idea to talk to a veterinarian about this certificate and see if they suggest any questions for you to ask the breeder.
Vaccinations
There are several standard vaccinations needed by puppies in their first year of life. These include shots for parvovirus, kennel cough, hepatitis, distemper and rabies. Vaccinations are due to begin between the ages of two and six weeks, with more being administered over the course of the next year. As an adult, dogs need booster vaccinations every one to three years.
When buying a puppy, you need an up-to-date record of his vaccinations. Bring this to your veterinarian to update with each new shot.
Socialization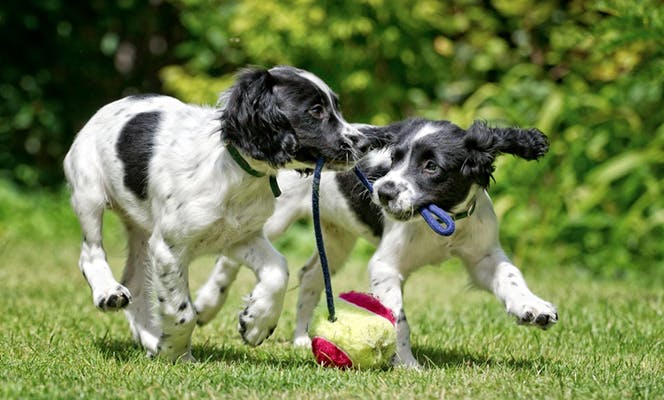 Puppies should be socialized from birth—first, with their siblings and mother, then with breeders and other animals. Get proof of your puppy's socialization training in writing. The reason this is so important is that a dog's personality towards other animals (including humans) starts to develop immediately. The better a puppy's relationship with dogs, cats, other pets and people, the better-behaved he is likely to be as a grown dog.
Guarantee
A breeder's guarantee is a big part of how to buy a puppy online safely. The guarantee certifies that your new puppy is in good health and free of disease. Most contracts require you to bring your puppy to your own veterinarian to confirm that guarantee within one or two days of purchase.
Paying for a Puppy Online Safely
Buying puppies online—safe measures taken into account—is actually easy and fast! Experienced vendors and breeders have websites set up to take payments in various ways, including via credit card, debit card and PayPal. If those options don't work for you, you can always ask the vendor to help you with another method, such as cheque or bank transfer.
How to Get Your New Puppy Home Safely
If your new puppy is located a long way from where you live, part of the purchasing process should involve a safe plan for transport. Ideally, the breeder will help arrange transport (check customer testimonials!) but if not, you'll have to go pick up the puppy yourself. You can also reach out to family or friends to help, as long as everyone involved in the process is trustworthy.
Commercial Breeder vs. Puppy Mill: What's the Difference?
The most important difference between good pet breeders and puppy mills is the wellbeing of the animals involved in the process. It's really quite simple: Are the breeding dogs and puppies clean, socialized, well-trained and living in adequate space? That's a very good sign.
Puppy mills care little for the wellbeing of their dogs and use breeding pairs for as long as physically possible. This is harmful to dog moms, who suffer from bearing litter after litter of puppies. Most breeders agree that dogs should only give birth about two times, then retire.
How to Spot an Online Puppy Scam
When you're shopping for a puppy, keep your eyes open. Don't get distracted by cute pictures! Do your homework, and look into business ratings, customer testimonials and reviews. The less information you can find about a puppy and its vendor, the less trust you should put in the sales listing.
Take our Dog Breed Quiz to learn which breeds suit you and your lifestyle the best! Mawoo's breeders are all carefully vetted to ensure top-quality dogs from reputable businesses.
Any questions? Get in touch!
We are here to support you every step of the way. Our concierge service is here daily to answer your questions!

Chat or speak with our team Mon-Sat 9a-9p ET.
Ready to find your new best friend?