10 Miniature Doodle Breeds + Why We Love Them
By Mawoo Pets · 15 Aug · 8 min read
There are lots of reasons to consider buying a miniature Doodle dog, from their clever personalities to their soft and snuggly allergy-friendly fur. Maybe, like many people, you've been wanting a Doodle, but just don't have the space for a big dog. That's okay! There are lots of miniature Doodle breeds that are just as lovable as their big counterparts.
That's right, most of your favorite Doodle breeds come in a smaller, easier-to-manage size! These pint-sized pooches stay small and puppy-like in appearance throughout their entire lives. They also come in a wide range of colors with wavy to curly, soft fur.
Let's explore some of the most popular miniature Doodle breeds and see what makes them a great choice for anyone who wants to jump on the Doodle bandwagon!
Why Consider a Mini Doodle Dog Breed?
We love all types and sizes of Doodle dogs, but there's no denying that choosing a smaller breed comes with some major perks. They're generally cheaper to feed and care for, they tend to live longer, and they're much easier to travel with.
But that's not all! Here are a few more reasons to love miniature Doodle breeds.
They're gentle on the allergies: While no dog can be 100% hypoallergenic, Doodles are a better choice for people with allergies because they shed very little and are often described as "hypoallergenic" dogs.

They fit perfectly into small living spaces: While standard-sized Doodles aren't ideal for apartment living, Mini Doodles are perfect for small space living and city life. Of course, they still need daily exercise, but their needs can be fulfilled in a much smaller space due to their size.

They are great with kids: Mini Doodles are extremely social and generally affectionate with everyone–including strangers, other pets and children. Their energy levels are a perfect match for active kids who need a playmate, but their smaller size makes them less likely to knock over a child or unintentionally cause injury.
10 of the Most Popular Miniature Doodle Breeds
1. Mini Jackapoo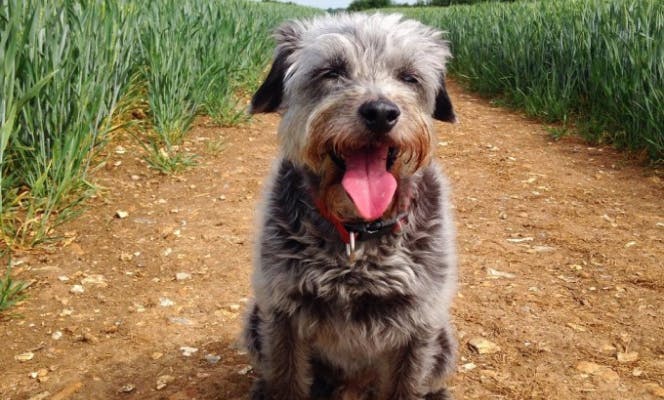 The Mini Jackapoo, sometimes called a Jackadoodle, is an adorable cross between the Miniature Poodle and the Jack Russell Terrier. Jack Russells were originally bred to hunt small game, so this breed is fast, smart and sturdy.
Miniature Jackapoos inherit their loyal natures and intelligence from their Poodle parent, and their playfulness and boundless energy from the Jack Russell. Some will behave more like one parent or the other, but generally, these dogs display a good mix of both parent breed's dominant characteristics.
This breed tends to be active and energetic. The Miniature Jackapoo loves to have a job to do, so daily exercise and mental stimulation are a must to prevent boredom. From puppyhood, socialization and proper training are essential for this breed since untrained Jackapoos can become independent and stubborn as adults.
2. Mini Goldendoodle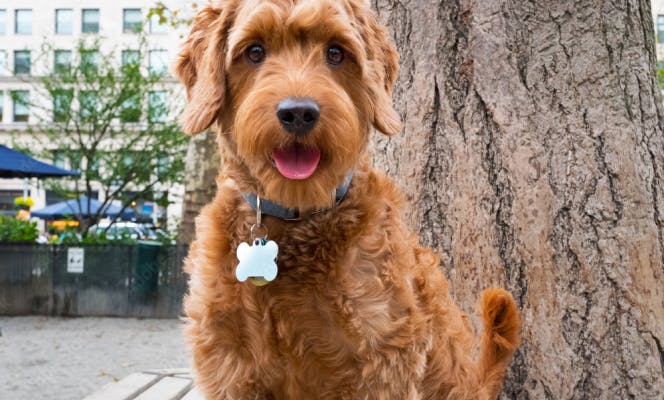 Standard-sized Goldendoodles are one of the most popular breeds in the U.S., due to their loyal, affectionate nature and playful energy. Their miniature counterparts combine all of those lovable characteristics in a smaller, easier-to-manage package.
The Mini Goldendoodle is a mix between the Miniature Poodle and the Golden Retriever. It's a designer dog breed known for its love of family and play. Goldendoodles enjoy constant activity and are ideal family pets who love to socialize and mingle with children, other pets, and people.
This breed is a great choice for owners with allergies because they shed very little. However, Miniature Goldendoodles do require regular grooming to maintain their coats and prevent matting. Daily exercise and mental stimulation are a must for this high-energy breed.
3. Mini Labradoodle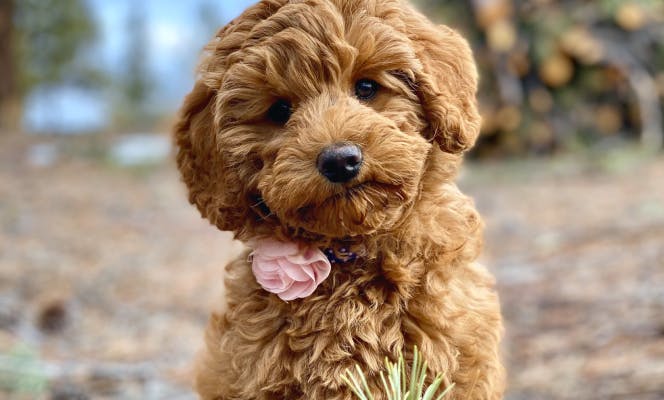 As the name suggests, the Miniature Labradoodle is the result of a cross between the Labrador Retriever and the Miniature Poodle. Due to the friendly nature of both parent breeds, Labradoodles tend to be one of the friendliest breeds for families with children.
Mini Labradoodles inherit their energetic and loving natures from both of their parent breeds. If you love to go hiking, running, or enjoy other outdoor activities, this Mini Doodle will be the perfect companion.
It's important to know that Labradoodles thrive on activity and social interaction, so loneliness and boredom can become an issue if they're left alone too much. With proper exercise, training and socialization, they're ideal family pets who shed very little and often require minimal grooming.
4. Mini Cavapoo
Miniature Cavapoos are the result of a cross between a Miniature Poodle and a Cavalier King Charles Spaniel. The result is an inquisitive, pocket-sized pup with an outgoing personality and an amenable nature.
Mini Cavapoos are loyal, loving and affectionate. They get along well with people and other pets. Their calm and warm personalities make them a great choice for young children and they make fantastic emotional support and therapy dogs for people of all ages.
Cavapoos should be groomed regularly to keep their coats in good condition and prevent matting. This breed isn't known to be high-energy, so a daily walk or two should easily meet its exercise requirements. The breed is highly adaptable to apartment living, too.
5. Mini Aussiedoodle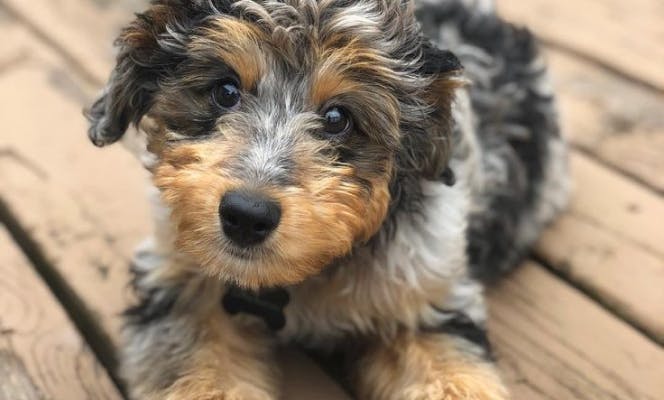 The Mini Aussiedoodle is a cross between the Mini Poodle and the Australian Shepherd. This breed is considered exceptionally smart, primarily due to the high intelligence of both parent breeds.
Australian Shepherds are herding dogs, bred to think and act quickly and independently when needed. Combining these qualities with the steadiness and eager-to-please nature of a Poodle makes the Mini Aussiedoodle an extremely clever breed that's very receptive to training.
It's important to keep in mind that Miniature Aussiedoodles are an active breed that requires daily exercise and mental stimulation. Socialization is also key for keeping this breed from becoming overly timid when exposed to new things.
The grooming needs of a Mini Aussiedoodle are fairly straightforward, and daily brushing will keep shedding to a minimum. Bathing, nail trims and ear cleaning can be tackled as needed. Haircuts are not required for this mixed breed, but some Aussiedoodle owners prefer to keep the coat short to reduce the need for brushing.
6. Mini Bernedoodle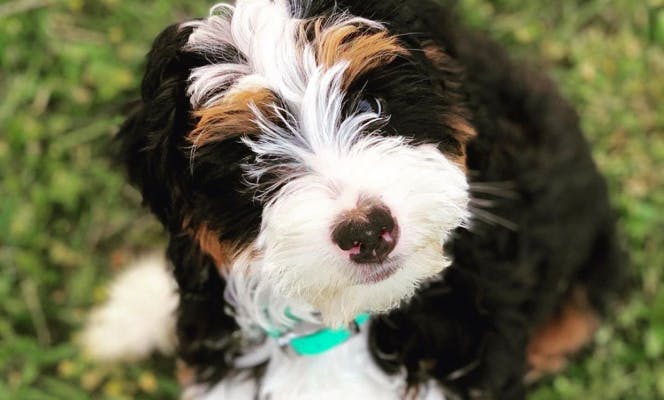 Mini Bernedoodles are a cross between the Miniature Poodle and the Bernese Mountain Dog. Bernese Mountain Dogs are a large breed, therefore Mini Bernedoodles can also be somewhat large compared to some of the other dogs on our list.
Bernedoodles of all sizes are known for their calm, intelligent, loyal and affectionate personalities. This breed loves family life and is always up for playtime or a long walk through the neighborhood, not to mention a good snuggle on the couch.
Although they aren't known to be aggressive, Miniature Bernedoodles can be shy around strangers, so socialization from puppyhood is essential. Daily brushing will keep their double coats looking nice and shedding to a minimum, along with occasional baths as needed.
7. Mini Cockapoo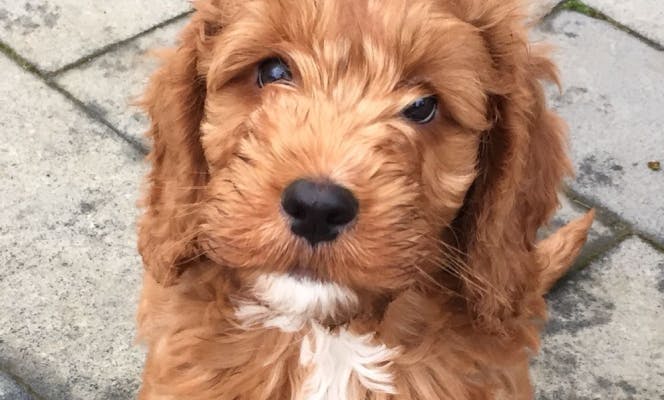 Bred from the Miniature Poodle and the Cocker Spaniel, the Mini Cockapoo makes a wonderful family companion. They're one of the most popular Miniature Doodle breeds on our list because of their loving, calm, and loyal natures.
This breed loves to cuddle and be part of family activities. Mini Cockapoos are easy to train and eager to please, but also very sensitive. They don't respond to aversion-based training or aggression well and may growl if they feel scared or threatened. They're great little watchdogs as long as they're properly socialized.
Cockapoos should be professionally groomed on a regular basis to prevent matting and keep the coat clean. This breed is prone to eye problems, but regular trims will go a long way toward preventing any issues.
8. Miniature Havapoo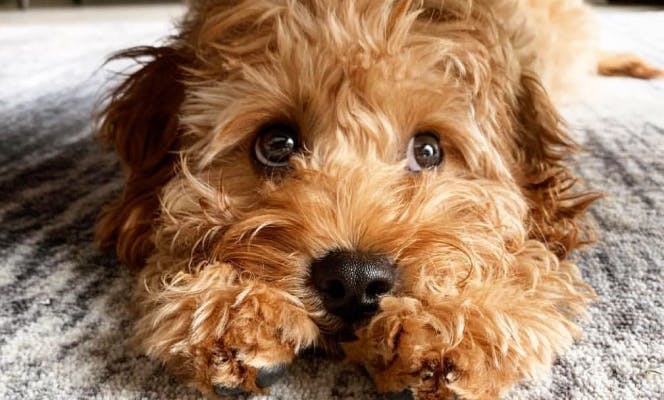 The Mini Havapoo is an adorable little dog with lots of personality. Havapoos are known to be loyal, loving and playful dogs who enjoy spending time with their human families. Havapoos are a cross between the Havanese and the Miniature Poodle, so they're naturally sociable and easy to train.
Mini Havapoos are loving and trusting. They're not ideal as guard dogs, but they do make wonderful companions for kids of all ages. One good walk a day or a round of fetch in the backyard will meet their exercise needs.
The Miniature Havapoo comes in a host of colors and patterns with its fur type ranging from tight curls to soft waves. They're generally a confident breed that rarely shows aggression to people or other animals. Daily brushing and regular haircuts will keep that coat in great condition.
9. Mini Pomapoo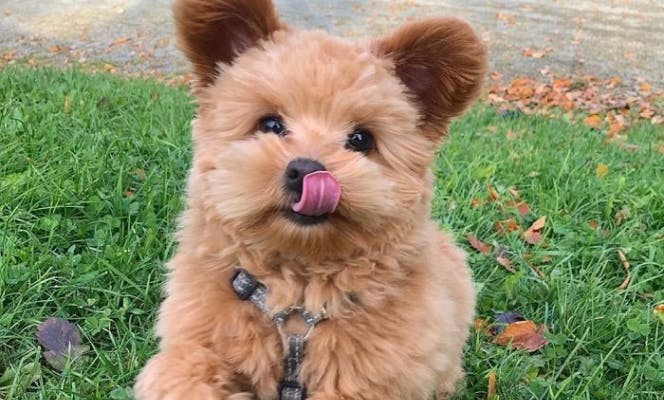 The Miniature Pomapoo comes from a cross between the Miniature Poodle and the Pomeranian. This adorable little Doodle breed has a peppy, happy personality and a fluffy coat that ranges from wavy to curly in a huge variety of colors.
These little dogs are high-energy but don't require much space due to their tiny sizes. Regular brushing is required to keep the shedding to a minimum and prevent matting. A shorter haircut is also a great option for this breed and will keep daily maintenance to a minimum.
10. Miniature Maltipoo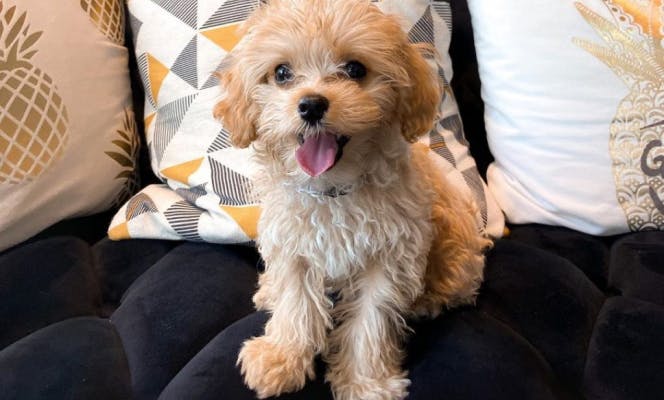 A cross between the Miniature Poodle and the tiny Maltese breed, Maltipoos are adorable little bundles of fur with tons of energy. Thankfully, they're very clever and eager to learn, as well as fun-loving and affectionate. They have a curly coat that can range from white to cream and even silver.
Due to its small size, this breed's exercise requirements can easily be met in a small space with minimal time invested. This makes Mini Maltipoos a great choice for older folks or anyone who has mobility issues. That said, their tiny size makes them somewhat fragile, so supervision is required when interacting with rough-and-tumble toddlers.
Frequently Asked Questions About Mini Doodle Dog Breeds
What is a Miniature Doodle Breed?
Miniature Doodle breeds are dogs that are bred from a purebred Toy or Miniature Poodle and another purebred dog of a different breed. This planned crossbreeding results in a small Poodle mix that has a combination of traits from both parent breeds.
Miniature Doodles are often referred to as designer dogs, and ethical breeders are working hard to elevate many Doodle breeds to purebred status. Miniature Doodles can range in size from the five-pound Maltipoo to the 50-pound Bernedoodle, depending on which breed mix you choose.
How Much Do Mini Doodle Puppies Cost?
A Mini Doodle puppy will typically cost somewhere between $1,000 to $2,000 or more, depending on your location, what the mix is, and how popular the particular breed is. Always work with a responsible breeder who socializes their puppies and provides a health guarantee. Mawoo's dogs are pre-vetted to meet these ethical requirements!
If you can't find the right Mini Doodle puppy at your price point, you can explore other miniature breeds for sale on Mawoo Pets, ranging from Yorkies, to Chihuahuas, to Shih-Tzus, and more!
What is the Smallest Doodle Dog Breed?
The smallest Doodle dog breeds are Yorkiepoos and Maltipoos, both of which were bred from a Toy Poodle parent. Toy Poodles are even smaller than Miniatures, topping out at only six pounds. When mixed with a small dog like a Yorkie or Maltese, the result is a tiny, pocket-sized Doodle, sometimes called a Micro Doodle.
Which Miniature Doodle Breed is Right for You?
Still not sure which Mini Doodle would be the best fit for your family? Take our Puppy Match Quiz to find your perfect breed match based on your lifestyle, personality, and individual needs. It just takes a minute!
Any questions? Get in touch!
We are here to support you every step of the way. Our concierge service is here daily to answer your questions!

Chat or speak with our team Mon-Sat 9a-9p ET.
Ready to find your new best friend?