12 Questions to Ask when Buying a Puppy
By Mawoo Pets · 8 Mar · 8 min read
A new dog is big (little) wriggly bundle of responsibility, and that's why there are plenty of questions to ask when buying a puppy. Having a long conversation with a breeder not only gives you insight into the personality of your new puppy, but it can ensure you don't end up doing business with the wrong person.
Here's What to Ask When Buying a Puppy
As exciting as it is to find the next furry member of your family, it can be tough to know what questions to ask when buying a puppy. You might be tempted to sign anything and hand over payment, no questions asked, just to collect your squirming bundle of fluff and get it home ASAP!
Don't miss your chance to learn as much as possible about where your puppy came from, and make sure you're getting everything you want from the transaction. Here's a list of the most important questions to ask when buying a puppy.
1. Can I meet the puppy in person and see the facility?
This is no time to be shy—get in there and meet your potential furry family member before you make your final decision. Meeting the breeder in person is a great opportunity to see how the business is run and how the dogs are cared for. The most important thing about this process is to deal with a reputable breeder, and a meeting is the best way to find out whether they meet your standards.
2. Can I meet the puppy's parents and siblings?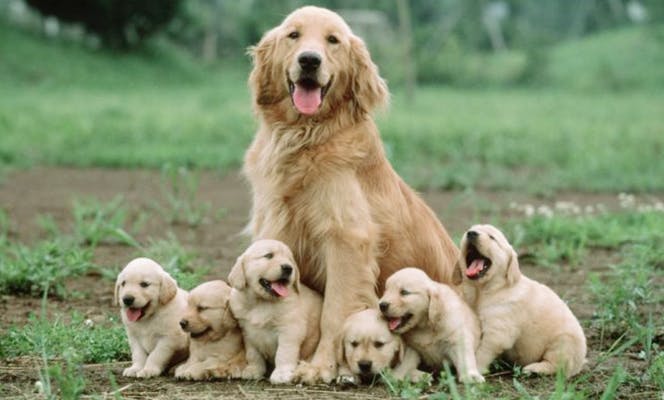 Again, it's not unusual for potential owners to visit with the doggy family of their favorite puppy! This is a great chance to see what he or she may look like in a few years, and to check the general health and wellbeing of the entire litter. Chances are good that if the dog family is clean, happy and healthy, you're doing business with the right people.
3. Have the puppy's parents or siblings had any health problems?
Breeders keep careful records about each dog in their care, which means that your puppy's relatives have every vet trip and health issue documented. Chances are good that if an entire dog family develops a disease or health problem, a puppy from that family will have the same problem.
As a puppy owner, you need to know any potential health risks that your new dog might develop. That way, you can work with your veterinarian to prevent problems and deal with any that do crop up together. In some cases, you might decide not to adopt a puppy because of its likelihood of becoming sick.
Whatever you decide, make sure you have all the relevant information.
4. What veterinary care has the puppy received?
It is the responsibility of the breeder to ensure the best health and care of the puppies they sell, and you should receive proof of that care in the form of a veterinary certificate. That certificate or official document should list all the puppy's vaccines and ensure its overall good health and eligibility to be sold.
At the age of 6-8 weeks, most veterinarians begin a series of puppy vaccinations. At about 10-12 weeks, all puppies need their distemper, hepatitis, leptospirosis, parvo, and parainfluenza vaccinations. Some of these require multiple shots over the course of several weeks. Without these vaccines your puppy could catch a potentially fatal disease.
The paperwork and guarantees that come with your new puppy are important for you and your veterinarian to follow up with. Later on, if your vet discovers a pre-existing condition in your dog, that original paperwork will prove the breeder's liability for affiliated costs.
5. What paperwork will I receive with the puppy?
There are normally several documents you will receive with your new puppy: A copy of the ownership/sales contract, a health certificate and pedigree certificate. You might also receive documentation of microchipping and individual vet visits.
If there is something else you think should be included, it's okay to ask!
6. Does the puppy come with a health certificate and a health guarantee?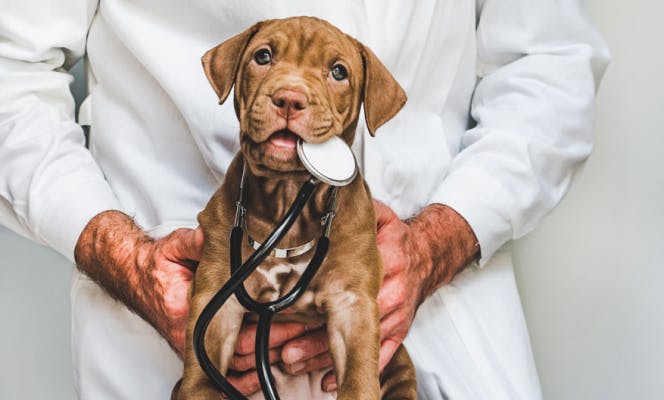 Any responsible and experienced dog breeder will supply new puppy owners with a health certificate and health guarantee. Good breeders have no problem supplying these documents because they know their puppies have been well looked after. On the other hand, dogs from puppy mills may struggle to produce paperwork certifying their puppies are in good health.
If you do buy a puppy with a health guarantee, and it turns out that puppy had an undetected disease or illness, the breeder is contractually obligated to make up for it.
7. Is there a contract? What does it say?
There is almost always a contract between breeders and owners, so if you haven't heard one mentioned yet, ask about it! The contract ensures that both of you—and most importantly, the puppy—are getting what you need from the transaction. It usually covers your responsibilities as a dog owner, and documents the responsibilities already undertaken by the breeder.
The most common features of a contract like this include agreements about the future of the puppy. For example, the breeder will often request that if you cannot take care of the dog anymore, you return it to them. They may also require you to keep the dog unsprayed/unneutered as a breeding animal—or exactly the opposite.
The contract will also include identification details for your puppy, including the breed, the sire and dam, and any unique physical markings. In many cases, the puppy will also be identified as "pet quality" or "show quality." This has to do with its representation of a pure breed. Show quality dogs can potentially compete in breed events—though nothing is certain until he or she reaches maturity.
8. Has the puppy been socialized? How?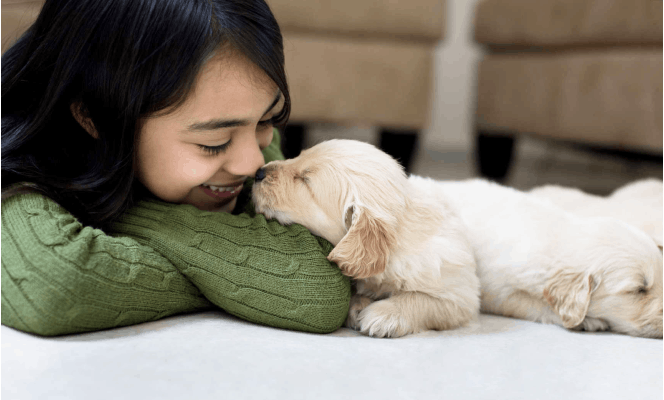 What to ask when buying a puppy should always include a question or two about socialization. Socialization, in doggy terms, is the process of getting to know other dogs, animals and people. It starts with a dog's mother and a few brothers and sisters, then extends to human caretakers and other animals who live nearby. Proper socialization is how a puppy learns how to behave positively with and around other creatures.
Dogs who have been isolated from other dogs and pets can quickly develop behavioural problems such as biting, nipping and barking. The same is true for dogs who have only known one or two people, and have had limited interactions with them. That quickly becomes bad news for everyone when friends and family stop by for a visit.
It's beneficial to find out how exactly your new puppy has been trained to get along with other animals and people, so you understand how to help it keep good habits and avoid bad ones. This information will also help you understand your puppy better so you can help him or her navigate the big world outside!
9. Do you require that the puppy be spayed or neutered by a certain age?
Sometimes, breeders only sell pure breed dogs if owners agree not to use those dogs to breed more puppies. Often, they do this to avoid selling puppies to a future competitor, and therefore require that owners spay or neuter within a certain time frame. If you do want to eventually breed your puppy, check a breeder's policy before you commit to a specific puppy.
10. Do you have references from your vet and people who have purchased puppies from you before?
One of the easiest ways to find out the background of a dog breeder is to ask for references. Better yet, get phone numbers and email addresses from previous customers so you can contact them yourself. Are they still happy with their dogs? Do they believe this breeder is of the highest quality? Find out!
11. What should I know about the breed I am considering?
Certain physical and behavioural characteristics are found in most dogs of the same breed. As much research as you may do on a particular breed that interests you, nothing beats experience when it comes to understanding a certain type of dog. If a breeder has dealt with that breed for years, their knowledge is even more valuable.
Some breeds, like Dobermans or Pit Bulls, may have a negative reputation with the public, but not necessarily in the breeding community. Breeders, for example, know that dangerous dogs aren't born, they're made. Everything depends on good socialization and training. On the other hand, it's also a very good thing to know what exactly is likely to go wrong when a certain breed is not trained properly.
Another reason to ask this question is to find out about breed-specific health issues. Labrador Retrievers, for example, commonly suffer from hip dysplasia and soft joints as they age. Knowing this ahead of time, if you have fallen in love with a Labrador Retrieverpuppy, helps you and your veterinarian prevent such issues from developing in the first place. It also gives you time to put a plan in place for when they do occur.
In addition to these reasons, it's important to know things like what climate your preferred dog breed enjoys, and whether that type of dog likes to run around 90 percent of the time or lie on the couch with you90 percent of the time. The better your lifestyle matches the ideal lifestyle of your new puppy, the happier both of you will be.
12. Do you offer support if I have questions after I purchase the puppy?
After-purchase support can include all kinds of things, from training tips to updates about the health of your puppy's littermates. Are you struggling to teach your new puppy not to jump up excitedly on other dogs? Ask the breeder how other dogs in the family have learned that lesson! Curious about whether your dog is likely to enjoy the company of a cat? Give them a call!
Mawoo's Breeder Vetting Process
Great breeders, like those Mawoo works with, want the very best for their puppies. That's why they offer continuing support even after your new puppy comes home with you. In fact, the answer to this question is a good indicator of whether you're speaking to a reputable breeder or not.
Mawoo does the hard work for you by vetting all its affiliated dog breeders and ensuring they meet the company's high standards of practice. Puppies for sale on our website are healthy and well-cared for. If you need help choosing one of them to be your new best friend, take our Puppy Match Quiz!
Any questions? Get in touch!
We are here to support you every step of the way. Our concierge service is here daily to answer your questions!

Chat or speak with our team Mon-Sat 9a-9p ET.
Ready to find your new best friend?