Doodle Dog Price: How Much Do Doodles Cost?
By Mawoo Pets · 30 Aug · 8 min read
Doodle Dogs, or Doodles, as they're also called, are mixed breed dogs with Poodle DNA. The Poodle is a robust, friendly and intelligent breed that lends its best qualities to a variety of other dog breeds, which is why Doodles are so in demand.
If you've fallen in love with a Doodle Dog or the Doodle variant in general, congratulations! These dogs are some of the most talented and loving animals on the market.
So, how much do Doodles cost? Here's everything you need to know, from the average Doodle Dog price to the best place to buy one.
How Much Does a Doodle Cost?
Doodle Dog price depends on a few factors. The most important factor is the exact breed mix. Is the Doodle part Poodle and Golden Shepherd, or Poodle and Chihuahua? The second half of the dog's DNA affects its physical characteristics, personality, and of course, the cost.
Usually, Doodles range in price from about $700 to about $5,000, depending on the specific mix. Coloring, size and genetic history also play a big role in the value of a Doodle. The average cost is around $2,500.
How Much is a Doodle Dog? Factors That Affect Doodle Dog Price
Dog breeding isn't just about taking two nice dogs and encouraging them to make puppies; it's also about looking at the genetic history of the breeding pair and trying to blend good qualities together. Breeders also work to get rid of undesirable qualities in certain breeds, like aggression or physical ailments.
Quality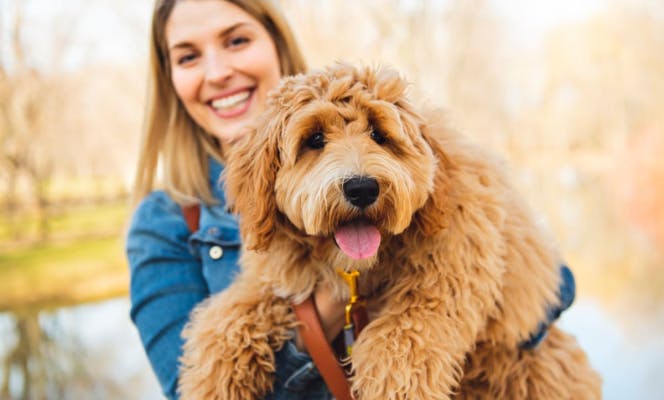 Most breeders classify their puppies into one of two categories: Pet, or Show. Pet quality puppies are just that—perfect candidates to become beloved pets. Show quality puppies, on the other hand, meet a specific breed standard in terms of physical characteristics.
Show quality dogs stand a good chance of winning ribbons at dog shows, as they conform to expectations of their breed's coloring and physical structure. Pet quality dogs don't have anything wrong with them, of course! They are perfect puppies that simply don't have the exact physical characteristics and temperaments of show dogs—and show dogs must adhere to strict guidelines.
In terms of cost, show quality puppies are priced higher than pet quality puppies. Since Doodle dogs are technically not purebred, they are exempt from entering most standard dog shows. They can be entered in some shows, however, and many do well at athletic competitions where mixed breeds are allowed in the ring.
If a Doodle's parents are deemed show quality, that can greatly increase the value of the puppy and even help it be considered for shows itself. A champion Poodle mother, for example, will lend her good name to her puppies as well as her best characteristics—ideally!
Size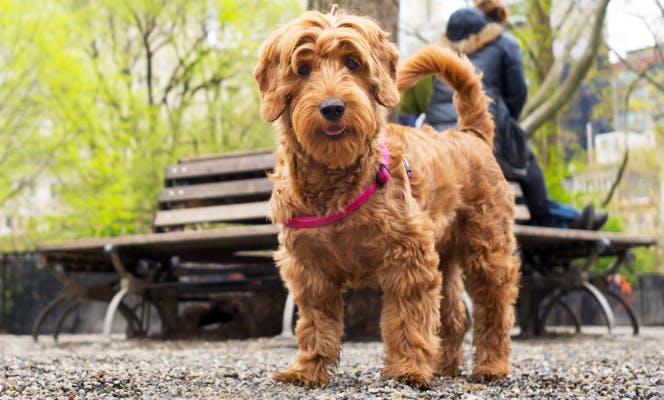 How much is a Doodle Dog? A big part of the answer depends on its expected size as an adult. The smaller the Doodle, the more you can expect to pay to bring that puppy home. Toy, Teacup and Mini Doodles are very popular and considered difficult to breed, making them the most expensive of the Doodle Dogs.
Larger mixes, like the Goldendoodle and the Labradoodle, are also very popular but simpler to breed, making them more affordable to pet owners. It's important to note that the smaller the designer breed—Doodle or otherwise—the more likely a dog is to have health problems.
Colour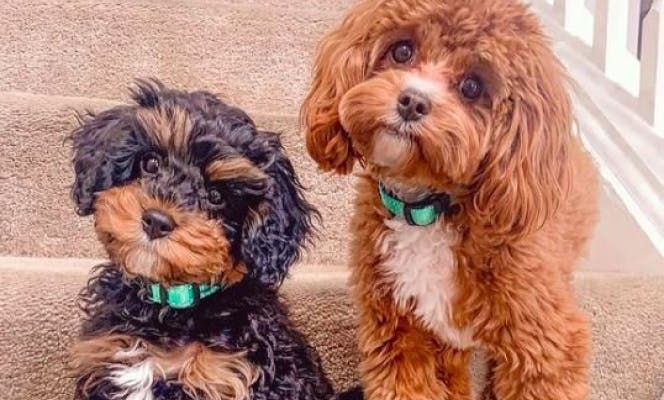 Since Doodles are so genetically varied, they come in all kinds of colors and patterns. Common colors include tan, white, brown and black, while rarer colors are marbled, or merle: Blue merle, chocolate merle, or sable merle. These rare colors, including the uncommon black Goldendoodle, make a dog more valuable in terms of price.
Eye color also plays a big part in the pricing of a precious Doodle Dog. Blue eyes are popular, but some dogs have two eye colors—usually one blue and one brown—and those can be even more in-demand and therefore costly.
Location
At Mawoo, we work with the best breeders throughout Canada and the United States, which means that you just might find your perfect doggy companion right next door! Or, you might find it 1,000 miles away.
Depending on how far your puppy lives away from you, there will be additional costs to bringing that puppy home. Either way, we'll handle the travel plans and get your new family member to your home ASAP.
How Much do Doodles Cost, and What Should be Included in the Price of a Doodle Dog?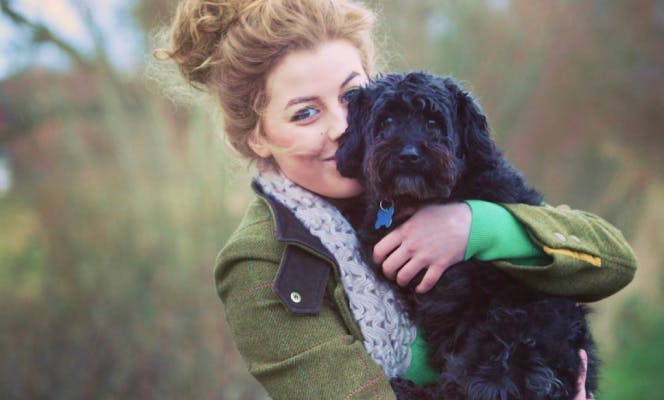 Always buy puppies from breeders with a great reputation, to make sure that the cost of the dog covers all its health needs. A good breeder is one who has invested enough time, money and personal attention into their business to ensure the health and mental wellbeing of all dogs involved—like all the breeders we connect you with here at Mawoo.
The puppies listed on our site and sold by any reputable breeder will be priced to include health exams and certificates, vaccinations, breed papers, microchip registration (if applicable), and a health guarantee.
The Doodle mix, color, pattern, and location will affect the final price of your new puppy. Usually, Doodle Dogs cost between $1,000 to $5,000 based on these factors. The more in-demand the Doodle, and the rarer the designer dog, the more you can expect to pay above the average price.
Goldendoodle and Miniature Goldendoodle puppies with Golden Retriever DNA, and the Aussiedoodle, with Australian Shepherd DNA, are two of the most popular Doodles on the market. These are usually priced between $1,000 and $3,000 per puppy, but you can often find puppies of these breeds for less, as low as $800, if they have common coat coloring.
Health Guarantee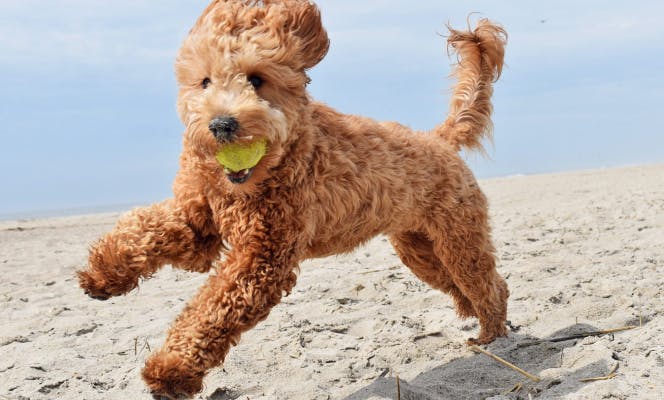 A puppy health guarantee is a crucial part of the contract between a breeder and new owner. Whether your chosen pet has a health certificate is one of the most important questions to ask when buying a puppy. Health guarantees come in many shapes and sizes, but they all have the same purpose: to ensure that the puppy is as healthy as possible.
When buying a dog, check to make sure it has had all of its vet check-ups, shots, and a clean bill of health from a reputable veterinarian. With this document, the breeder has taken responsibility for providing you, the buyer, with a healthy dog.
The guarantee should state that there are no underlying health conditions in the dog, like hip dysplasia or heart murmur. It should also guarantee the continued health of your puppy for a certain amount of time, for example, six months or a year. I
f, during that time, your new puppy develops a disease or dies, the breeder should agree to cover related costs. In the extremely sad circumstance that your puppy dies from a genetic health problem, the breeder may often refund the purchase price or offer you a different puppy.
First Puppy Shots
During their first year of life, puppies all need to have standard vaccinations—so always check that a dog you're buying has received theirs. Take the records to your own veterinarian and they will continue the schedule as required.
Puppy shots are administered to prevent parvovirus, kennel cough, hepatitis, distemper and rabies, as well as other regional diseases. Vaccinations begin between the ages of two and six weeks, and continue throughout the year. As adults, dogs need booster shots every one to three years.
Registration Paperwork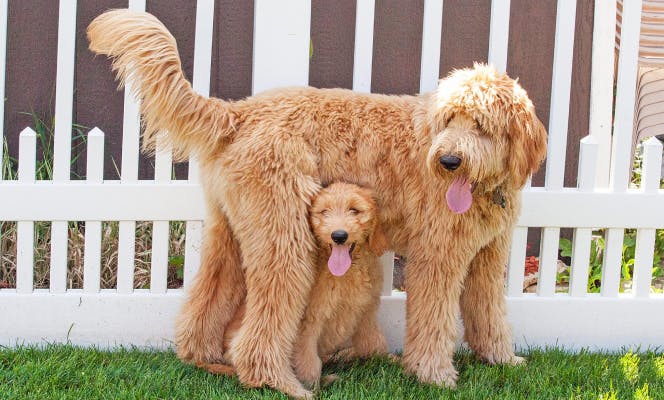 Registration paperwork for dogs is normally done for purebred puppies, and most clubs, like the American Kennel Club (AKC), won't allow most mixed dogs to receive papers. This is because the purpose of kennel clubs is to track the lineage of purebred dogs by documenting all puppies. Goldendoodles can be registered more often than other mixes, however.
Kennel clubs update their databases when dog owners and breeders apply for registration. That means, when a purebred dog has puppies with another purebred member of her breed, those puppies can receive kennel papers.
The new owner of each puppy will usually apply directly to kennels like the AKC, listing the registered names of the dog parents. If all is in order, the puppy gets their registration papers. Later on, if that puppy has more purebred puppies, the same process continues.
Your new puppy won't come with its registration papers—if it can be registered, that is—because the kennel club needs your name and contact details to complete the paperwork. However, the breeder can help get you started on the process of applying.
Ongoing Support
When you buy your perfect puppy from Mawoo Pets, there's no need to stress about any of the documents, papers and guarantees involved in your contract. We're here literally every step of the way, available via online chat, email or telephone, to answer your questions and reach out to breeders on your behalf.
Mawoo takes responsibility for every puppy, every transaction and every new pet delivery! Even after your puppy arrives, feel free to reach out. Our experts can help with training tips, travel advice and more.
Additional Upfront Expenses to Consider
When planning your pet purchase and finances, don't forget that your new puppy's needs are ongoing! Here are some of the additional expenses you'll need to prepare for when buying a dog.
Deposit
The first step to puppy purchasing is the deposit. This happens after you've chosen your favorite puppy and asked for him or her to be taken off the sales list. When you make that request, we'll ask for a deposit (included in the total purchase price) to show your commitment to the puppy.
When we've finalized the details, you make your final payment and the deposit will be deducted from the total sale price. That's when your puppy's picture is removed from the Mawoo puppy pages, and your new doggy comes home.
Transport
If your puppy is nearby where you live, you can arrange to come pick it up yourself from the breeder. If, however, you can't make the trip, we'll take care of the arrangements for you.
Mawoo staff are happy to coordinate with breeders and new owners and find appropriate transportation for little doggies going to their new homes. All you need to do is cover the costs.
Basic Supplies
Getting ready for your new furbaby means prepping the house or apartment with good food, food and water dishes, toys, a bed, a harness and leash, and cleaning supplies, too. Check with the breeder to find out what food your puppy currently eats and start with that so there are no surprise digestive issues. You can change it later if you want, after talking to your vet.
Veterinary Costs
Speaking of the vet, you'll need a good one! Puppies and dogs need regular check-ups, in addition to their vaccination appointments. If you don't already have a trusted veterinarian, ask pet-owning friends for advice, and check reviews online. Keep emergency numbers and clinic information on hand for when you need them.
Where to Buy a Doodle
The most important thing to remember when pricing Doodle Dogs and buying one for yourself is to make sure the breeder is caring and trusted. At Mawoo, you can always rest assured that we've done the hard work of vetting breeders already.
Browse our available Doodle Dog breeds for sale by caring breeders. If you're worried about paying for the puppy you love, consider applying for pet financing with one of our partners!
Any questions? Get in touch!
We are here to support you every step of the way. Our concierge service is here daily to answer your questions!

Chat or speak with our team Mon-Sat 9a-9p ET.
Ready to find your new best friend?