Where is the Best Place to Buy Puppies Online?
By Mawoo Pets · 31 Oct · 9 mins read
When you've decided it's the right time to buy a puppy, we know it's almost impossible to be patient! Don't go jumping into any old contract, however, before you know where to look for quality puppies from ethical breeders. In this article, we'll help you decide where to find and buy your new furry family member.
Where's the Best Place to Buy Puppies Online?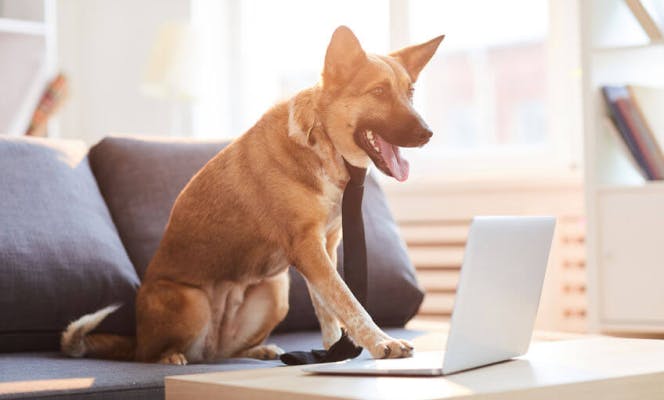 Responsible pet ownership starts with the purchase of your puppy, so it's important to know exactly where that puppy is coming from. Since it's tricky to know all the details about a puppy and its breeder when shopping on the internet, the best place to buy puppies online is somewhere vetted and trusted by breeders and buyers alike.
In this article, we'll take you through some of the best methods for finding healthy, happy puppies from reputable online sources.
How to Know a Website is Reputable
The first step to finding your next puppy is finding a good website, either one created by a dog breeder or a third-party vendor. It's not hard to do! Just a simple Google search for "puppies for sale" will get you pointed in the right direction. Right away you'll see local kennels, puppy sellers, and websites like Mawoo, happy to help you find your new furry friend.
So, how do you know if you can trust a website that wants to sell you a dog? That's a very good question, and the answer is usually to be found in customer reviews. You shouldn't rely on websites to simply tell you they are trustworthy; do a little digging to make sure. If you've found a puppy you might want to bring home, it's always a good idea to check customer testimonials from people who have bought from that breeder or vendor before.
The online community can be a great resource for reviews and recommendations about good, ethical ways to buy puppies. You can find reviews via the BBB, Trustpilot, or through certain forums like those on Reddit. You can also reach out to a business directly and ask to be put in touch with previous customers for a chat about their experiences—they won't always do so, but it never hurts to ask. The more information you find, the easier it is to tell whether a breeder is reputable.
How to Buy a Puppy Online Ethically
The biggest issue with buying a puppy online is that it can be tough to know if the breeder you've chosen is an ethical one. But, first, what does that mean, exactly? An ethical dog breeder is one that puts the well-being of their dogs—from mothers and studs to puppies—at the highest priority.
That means, the dogs are more important than anything else in the business, including money. It takes a large investment to keep breeding dogs comfortable and healthy, as well as to accommodate their offspring. Healthy puppies need lots of vet care, medicine, vaccinations, food, training, socialization and other care. Before buying, make sure all these factors are taken care of by the breeder.
Again, buying online means it's not always possible to make personal checks on your puppy and its environment before you buy. That's why it's so important to check references and reviews, and to speak personally with a puppy's caretakers during the vetting process. Never be afraid to ask questions!
How to Find Puppies for Sale Near You
At Mawoo, we've organized our available puppies for sale by breed, gender, location and lots of other features. To find the available puppies for sale nearest you, select "browse by location" and select your province or state. If you happen to find the perfect puppy slightly out of your geographical range, don't worry! We can arrange transport whenever and wherever needed.
It's often best to start your puppy search locally, since it makes it easier to meet your potential new housemate, check out the facilities, and bring them home yourself. To see what puppies are available in your area, you could start with our site or do a broad internet search for "puppies for sale in" plus the name of your city or region. Check out our "browse by location" search engine to find local puppies from Alaskato Florida!
It's also a good idea to check local listings for breeders nearby where you live. Not only can you call them up personally and visit the premises, but you'll be able to find local customers who can offer testimonials. Making a visit directly to puppies you may potentially buy is a great idea if you are able. It gives you the chance to meet your puppy and see if the two of you get along, but also a visit lets you judge the quality of the breeding facility for yourself.
How to Connect with Responsible Breeders
The key to scouting out responsible breeders amongst the many available vendors online is communication. Speak with breeders directly, whenever possible, and ask questions about the facilities and the dogs in their care. If anything seems unethical, not quite right, or even if it's just hard to get someone to talk to you at all, it might be best to move on.
Remember, if you ever do find something going wrong at a breeding facility, you can report it to the authorities! Animals have the right to proper care, including nutrition, exercise, vet services, and socialization. Breeding puppies at the expense of canine wellness is the definition of unethical practice.
In Canada, contact the nearest RSPCA or Humane Society if you think you've discovered a puppy mill or other type of animal abuse. In the United States, contact the Humane Society of the United States.
The best way to connect with responsible dog breeders, both in your area and abroad, is to follow the positive reviews. Do you have friends or family who bought a wonderful dog and had a great buying experience? Start there! You will find that many of your reputable local dog breeders are already working with Mawoo.
Places to Avoid When Buying a Dog
Research is your friend when making any kind of purchase, but in some cases it's just better not to waste your time in marketplaces known for hiding bad practices. The risk you take when buying a dog from a puppy mill is not just that your puppy may have social or health issues, but that the business will continue running thanks to your funds. We recommend that you think carefully when choosing a vendor to sell you a good dog.
The following marketplaces can be tricky to navigate.
Craigslist
As online marketplaces go, Craigslist is one of the most functional and user-friendly out there. It's a great place to find used household items, place local adverts, and to connect with other people in your city and region. Craigslist is also a popular place to post and find pet ads, though normally the site doesn't allow anyone to sell animals for profit.
On Craigslist, people rehoming animals are allowed to charge a small fee, and this can be very important. Pets offered for free are at risk of being collected for nefarious purposes, such as those intending to start a puppy mill, or train fighting dogs, or worse. Even a small adoption fee, just $5-10, can prevent this from happening.
It is common to post homeless animals on Craigslist and other online forums to try to find them homes, but you need to be careful when answering these ads. Some people who post dogs online this way do still ask for money, and since their business is hidden from view it's not unlikely that their puppies are the product of bad practices.
Kijiji
Kijiji is especially popular with Canadian shoppers, and it works much the same as Craigslist. It's not possible to post a cat or dog for sale on Kijiji, however other types of pets can be listed on its regional pages. The same potential risks associated with buying or rehoming a dog from Craigslist (or other types of local forum) are at play on Kijiji. Be careful if you choose to find a dog this way.
Pet Stores
The traditional pet store has changed over the last couple of years. It's not easy to sell dogs these days, for the excellent reason that buyers and vendors need to see proof of good business and breeding practices. Depending on where you live, there may no longer be pet stores selling dogs, cats or other animals. Instead, animals in-store have usually been rescued, rehabilitated, and are in search of new homes.
Pure breeds are unlikely to be found at today's modern pet store, since they are mostly in the realm of the dedicated breeder. Some breeding facilities are run by people whose families have been breeding certain types of dogs for decades, or generations. Doing business directly with top-notch facilities like these is what Mawoo does best.
Puppy Mills
We're sure you already know that puppy mills are highly frowned upon, but do you know why that is? The term "puppy mill" is used to describe a dog breeding business that puts the health and wellbeing of its dogs at risk for profit. Unless you do some research, you might not know you're dealing with a puppy mill—so beware!
Consider Adopting from Your Local Shelter or Rescue
Don't forget, there are always needy dogs at your local animal shelter or dog rescue who deserve a good home. Drop by for a visit some time, since you just might meet the perfect puppy or adult doggy when you do. All kinds of dogs and other animals end up in shelters for all kinds of reasons--even purebred dogs with AKC paperwork.
When you meet a dog at a shelter, almost anything might have happened to bring it there. Many dogs are sadly abandoned by owners and families when they move, and many more are born on the street. Rescued animals can be shy, nervous and even anti-social with members of their own species, but good rescuers and new owners can undo a lot of that trauma with time and care.
Adopting a dog is different from buying a dog mostly because you usually won't know the history of the rescued dog. Its age is normally estimated and most likely it will have mixed breeding. Adoption fees are relatively low, and designed to cover the costs of rescue—costs such as spay or neuter appointments, medications, food, vaccines, and caretaker time.
Where's the Best Place to Buy Puppies Online?
If you are puppy shopping right now, you can take our Puppy Match Quiz to find out which breeds might suit you and your lifestyle. Just hit the link and answer a few questions, then see what dog types we've matched you up with — we'll even show you some puppies for sale on our site right now that match those breeds!
At Mawoo Pets, we are dedicated to our network of vetted dog breeders and proud of the work they do to produce happy, healthy puppies ready to take on the world. We are always happy to answer any questions you have about the buying process, or about specific puppies and breeders. And please, do check our Trustpilot reputation — we want you to feel safe knowing that we take our mission very seriously.
If you need help with the cost of buying a dog, Mawoo Pets has a few great options to help with the financing. Give us a call or chat with our team any day of the week for assistance. Happy shopping!
Any questions? Get in touch!
We are here to support you every step of the way. Our concierge service is here daily to answer your questions!

Chat or speak with our team Mon-Sat 9a-9p ET.
Ready to find your new best friend?