What's the Difference Between Adopting and Buying a Dog?
By Mawoo Pets · 9 Feb · 7 min read
The difference between adopting and buying a dog is not exactly black and white. There are all kinds of ways to adopt a pet, and almost as many kinds of pet breeders. The most common difference between buying and adopting a dog is that dogs for sale are pure breeds, while rescued dogs are more often of mixed breeding.
Dogs and other animals available for adoption through a shelter, rescue or via an individual may be pure breeds too, from time to time. Adoptable dogs often were found as puppies or adults on the streets without a home or family to look after them. Rescuers who find dogs, cats and other pets this way usually spend their own money on vet appointments, medicine, vaccinations, spay and neuter surgeries and other expenses.
When a rescued dog is fit and socialised, it is put up for adoption to a good home. Any payment required (or suggested) during an adoption goes towards covering the costs of healthcare. The cost is usually between $50-250.
In contrast, buying a dog from a breeder is normally a contractual transaction. The cost of breed-certified dogs depends on the breed and is usually in the hundreds or thousands. The breeder has purposefully bred two dogs to create a litter of puppies to sell. The dog parents and the puppies are certified by a kennel club as pure breeds. They should be vaccinated, healthy and vetted with a certificate of health from a veterinarian.
There are lots of differences between adopting a dog versus buying from a breeder. Let's break down the pros and cons so you can decide which option is best for you.
The Pros of Buying a Dog from a Reputable Breeder
There are several good reasons to buy a dog from a well-respected breeder.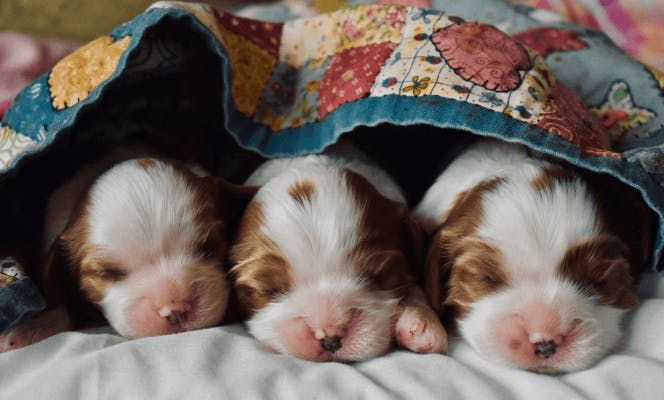 You can get exactly what you want
You'll be able to pick the exact dog you want, from the fur pattern down to the eye color. You'll know what size the dog is likely to become, as well as the personalities of its genetic family members. Do you want a red Pomeranian just like the one you grew up with? A breeder will have puppies just like it.
You'll know your puppy's history and genetics
Breeding makes for puppies with a long, documented genetic history. If you buy from a breeder, you'll be able to read about your dog's mother and father, and probably a dozen more relatives at least. With this information, you and your veterinarian can be ahead of the game when it comes to the most likely health problems facing your dog.
You can meet the puppy's parents and littermates
Before making a decision about buying a puppy, you can actually arrange a visit to meet him and his parents! A good breeder will welcome you to the kennels and introduce you to any puppies you're interested in bringing home, as well as their littermates and mothers. Puppies' fathers do not always live in the same place as their offspring, but a visit can still be arranged.
You'll have a knowledgeable support system
There's a lot to know about raising a puppy that you might not know quite yet—even if you've done it before! The good news is, if you bought your puppy from a breeder, you'll be able to reach out to them with any questions. What sort of training program worked best for your dog's parents? What kind of games might he instinctively enjoy? Just ask!
Your puppy will be well socialized, healthy, clean, and have basic housetraining skills
Socialization begins at birth for dogs born at a breeding kennel. Puppies are handled by gentle people every day, so they learn to trust and respect humans. Care is taken to teach them basic skills and housetraining, and puppies are kept clean and healthy with regular grooming and vet trips.
The Cons of Buying a Dog from a Reputable Breeder
It's easy to get excited about choosing a specific puppy and buying it from a breeder, but there are a couple of things to keep in mind first.
Upfront costs may be higher
Buying a dog is not a cheap transaction. A healthy, happy, trainable purebred puppy is a serious responsibility, and he comes with a matching price. This isn't affordable for everyone, especially in today's financial climate.
That said, reputable sites offer low-interest financing options that afford you more time to complete your purchase, and to budget more smartly.
Your new puppy may have to travel to its new home
Breeders can't be found in every single town, and you're just as likely to find the puppy of your dreams on the other side of the country as in the nearest county. Depending on where you find your puppy, you might have to arrange to pick him up or have him delivered to you.
The Pros of Adopting a Dog
There are just as many great reasons to adopt a dog—as an adult or a puppy—as there are to buy a purebred.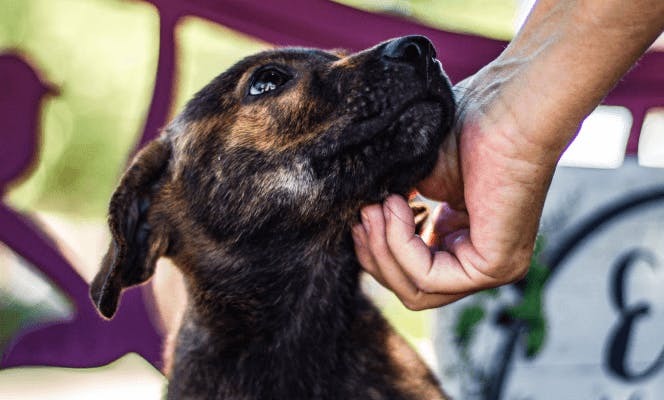 You'll change the life of a homeless animal
Adoption is a blessing for dogs who otherwise would be homeless and helpless. Without adoption, rescuers and shelters would struggle to keep saving street dogs since their available space would fill up. Also, dogs would have to live in a shelter their entire lives instead of knowing the joy of a family home. Giving a shelter animal a second chance is a loving and admirable act.
Upfront costs may be lower
It's no secret that you can adopt a dog for a lot less money than it takes to buy one from a breeder. Adoption fees can be a fraction of what a breeder charges for buying a pet. If you don't have a big upfront budget for a new pet, adoption is a wonderful idea.
The Cons of Adopting a Dog
As easy as it might seem, there are some ways that adopting a dog can be tricky.
Knowledge of dog's background and genetics may be limited
Rescue dogs come from all kinds of places. Some were born on the street or in the woods—some were abandoned by previous owners. Without a full history, it's impossible to know the genetic makeup of a dog without doing a DNA test. That means you aren't going to be able to know ahead of time if your dog is genetically prone to any medical problems or behavior issues. There may also be trauma to overcome.
Future training or medical costs may be higher
Choosing rescue dogs versus breeders' dogs seems like the best option financially, however it's impossible to say what might happen down the road with an adoptee's health. When you bring a pet into your home, it's important that you plan ahead. Even the healthiest of puppies can require significant medical care later on. If the puppy you adopt was exposure to poor living conditions previously, he or she may suffer from unknown or undetected health issues.
Options may be limited
Adoption isn't about choosing a breed that suits you; it's about simply bonding with a dog and making it part of your family.
The Difference Between a Reputable Breeder and a Puppy Mill
You've probably heard the term "puppy mill," and are wondering, just what is the difference between a reputable breeder and a puppy mill? The difference comes in the way they conduct business.
Technically speaking, anyone can buy two pure-bred dogs and start breeding puppies for sale. The problems come when inexperienced people, also called backyard breeders, decide to do this and have neither the knowledge nor the money—or possibly the empathy—to do it properly. A family of dogs gets messy very quickly, which leads to sanitation issues and health risks.
Bad breeders also fail to socialize their dogs properly, which means a puppy has lost valuable training time and learned bad habits. Most importantly, the welfare of the puppies and the breeding dogs is poor.
A responsible breeder—that is, a breeder with a good reputation and caring practices—cares most for the wellbeing of the dogs in their care. They provide large, clean spaces, access to sunshine and fresh air, good quality food, and human kindness. Though the initial cost of buying from a reputable breeder is higher, it is ethically important to support the caring breeding of healthy animals.
What about buying from a Pet Store?
Pet shops are increasingly scrutinized for their pet selling activities. This is because most pet stores keep their puppies and kittens in small, confined spaces that can be anxiety-inducing for the young animal. Even more, most pet stores do not reveal the breeders they work with, and many have been accused of acting as fronts for puppy mills.
If you are able to get the information and transparency to understand the breeder, health and safety standards, and background of the puppy you are purchasing, then a pet store can be a good option. But in the absence of this information, it is more prudent to adopt from animal shelter or purchase from a responsible breeder.
Adopting vs. Buying from a Breeder: Making the Right Choice for You
The difference between adopting and buying a dog is ultimately a personal choice and about how you envision life with your new best friend. If you want a dog simply to love and play with, you may find a great match in your local shelter or rescue group. Shelter dogs are special, full of love and joy, and will be grateful for your unconditional love.
On the other hand, if you want a very specific breed of dog, or if you want to enter your dog into athletic or breed competitions, you should look into buying from a breeder. A good breeder will make it easy for you to meet the puppies, learn about the families of each dog, and to see the premises where the dogs live. They'll be happy to answer all your questions and speak with you personally about the process of buying one of their dogs.
You can also look online for reviews and testimonials about breeders, to check their reputation. It might even help to reach out to past customers and ask about their experiences. Here at Mawoo, we've collected all the information you need to make a decision about buying a dog and made it simple to find reputable, caring breeders.
All breeders on Mawoo have been personally checked to make sure they have the highest standards. We also arrange travel for all puppies bought through our website.
If you are looking for a specific type of dog like a small breed, a Bernedoodle, or a Maltese, check out our puppies from loving breeders.
You can also take our Dog Breed Quiz to see which dogs match your personality and lifestyle best!
Any questions? Get in touch!
We are here to support you every step of the way. Our concierge service is here daily to answer your questions!

Chat or speak with our team Mon-Sat 9a-9p ET.
Ready to find your new best friend?