Will Insurance Pay for a Service Dog?
By Mawoo Pets · 29 Oct · 7 min read
The benefits of service dogs are well documented: A service dog can assist a child with special needs, decrease emotional stress, manage mental illness, and assist individuals suffering from a slew of physical disabilities.
However, service dogs are expensive. The cost of a service animal can easily run at least five figures, and that is before factoring in the costs of a training program, care, and veterinary service. This expense is well out of the range of the average American, and it begs a series of important questions: Will insurance pay for a service dog? How can you pay for a service animal? Does insurance cover the cost of a service dog? Do you need service dog pet insurance?
Will Insurance Pay for a Service Dog?
No. There is no such thing as service dog health insurance coverage. This statement applies to all forms of health insurance, including private insurance plans available through the health insurance market or employer insurance plans. It also applies to publicly funded insurance programs, like Medicare and Medicaid.
This reality can be highly problematic for most people, given the expense of training, purchasing, feeding, and caring for a service animal. The lack of coverage means you have to explore alternative funding mechanisms. Thankfully, depending on your situation, various alternative resources can help you finance a service animal.
Are Service Dogs Covered by Health Insurance?
No. A health insurance company does not offer service dog insurance coverage. Health insurance is designed to protect people, not their four-legged companions. However, this doesn't mean no insurance products are available for service dogs; it only means you cannot use your existing health insurance to cover your pets. You can examine purchasing health insurance for your service dogs, and doing so may save you extensively if and when you need veterinary or rehabilitation services.
Does FSA Pay for Service Dogs?
Yes. You can use a flexible spending account (FSA) to pay for service dogs. Any costs eligible for FSA reimbursement must be related to helping the animal do its job. Eligible activities include food, training, veterinary care, or other specific tasks related to providing you assistance.
You should work with your FSA provider to confirm what specific costs they will reimburse as part of your FSA. Furthermore, remember that FSA regulations apply differently to emotional support dogs. An FSA cannot reimburse the cost of regular dogs, although regular pet insurance can cover a standard domestic pet.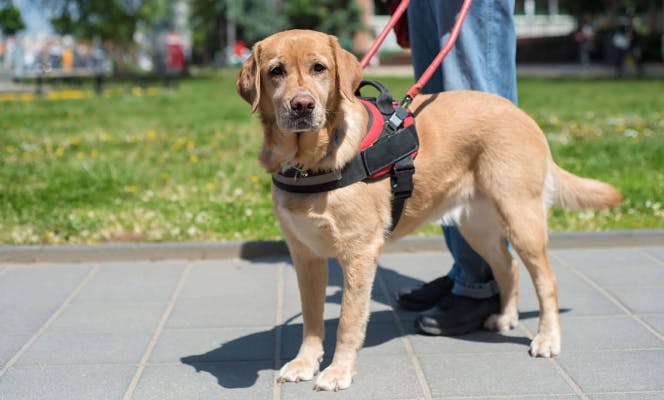 Other Ways to Finance a Service Dog
Individuals often rely on private charities, family members, or a personal loan to afford a service dog. The major expense associated with a service dog demands that you have the best information before deciding how to pay for a service animal.
First, you can consider financing the purchase of your puppy or dog through a reputable source.
Fortunately, many non-profit organizations offer financial assistance to help you manage service dog costs. This includes the initial purchase, supplies, vet care, and training. These financial assistance programs have different financing options, paperwork requirements, eligibility restrictions, and waiting periods. You will also have to manage a different application process for every group, requiring you to input a variety of data and personal information. Start the process early if you are interested in purchasing a service dog.
Furthermore, remember that different programs are available for certain subsets of the population, such as military veterans.
Assistance Dog Special Allowance Program (ASDA)
The Assistance Dog Special Allowance Program is an example of one of the many programs that can help you manage the costs of a service animal. The state of California operates this program and provides up to $50 monthly to help offset the costs of anyone with a service dog. You can use this money for various purposes, including paying for veterinary care, grooming, or food.
As useful as this program can be, it is a great example of the specific limits placed on many service dog financial assistance programs. To be eligible, a person must live in California. In addition, you must be blind, have a hearing disability, or be physically disabled. You must also already use one of several state-specific or federal assistance programs.
This eligibility requirement limits the people who can apply for such a dog. It also limits the types of service dogs covered. For instance, this program would not cover emotional support dogs, therapy dogs, or other assistance animals. However, a blind individual with a guide dog could qualify for this program.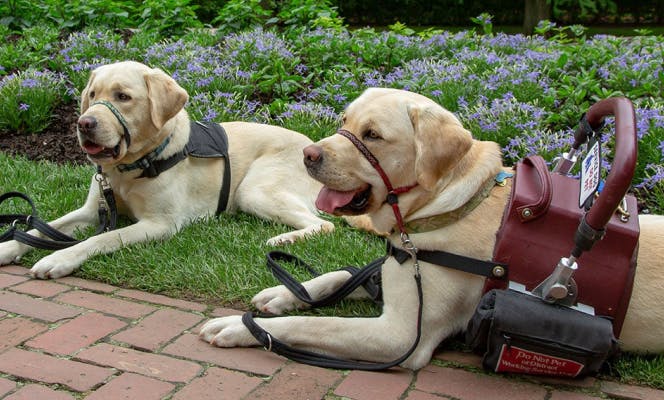 Employer Payment Plans
Employer payment plans are typically used to reimburse an employee for buying a health insurance policy. In some cases, you can use employer payment plans to cover the costs of a loan related to a service animal. However, these programs are operated privately, and you must ask your employer if they offer such a program. There is no guarantee they will; if they don't, you'll have to find an alternative payment method.
Fortunately, the Americans with Disabilities Act requires your workplace to offer reasonable accommodations for you and your service animal. As such, your place of work is likely already familiar with your pet-specific requirements and may be able to find different ways of helping you pay for your dog.
Do You Need Liability Insurance for a Service Dog?
From the perspective of legal advice, it is important to keep in mind that you are responsible for the actions of your service dog. You could be held financially liable for any property or personal damage your dog causes, including dog bites.
This reality means you should ensure your dog's proper training. A service animal should have extensive training that prevents violence. However, mistakes happen.
Home insurance policies usually offer personal liability coverage starting at $100,000. Therefore, you'd be covered if your dog caused personal injury up to $100,000 to another person. However, in this scenario, you might be on the hook if someone sues you for more than $100,000. Therefore, you can best contact your home insurance company, confirm your home insurance covers liability for your service dog, and find out if the amount is adequate.
If you rent an apartment or live with someone and don't have home insurance coverage, you should investigate specific liability insurance for your service dog. This service dog insurance coverage can be critical for protecting your financial future and ensuring that any assets you own would be protected if a financial judgment was ever entered against you.
Should You Consider Pet Health Insurance and Life Insurance for Your Service Dog?
Pet health insurance is good for any pet you consider bringing home, including an emotional support animal or your service dog. Pet insurance companies will offer different plans based on your specific financial situation and the specific needs of your pet. These policies will have different coverage options, premiums, deductibles, and more. For example, you can buy pet insurance plans that cover accidents, illness, or regular well-checkups.
Various factors will ultimately determine the insurance rates owners will pay for their service dogs. This includes the health history of the animal, the breed of dog, and its size. You also must remember that different states have different pet insurance laws. These laws will ultimately impact what the pet insurance covers and the final costs of the insurance.
While service dog pet insurance is not covered by any insurance company, you can write off certain costs on your federal taxes related to your service dog. This includes service dog insurance coverage. As such, you should keep track of all payments made for your pet insurance.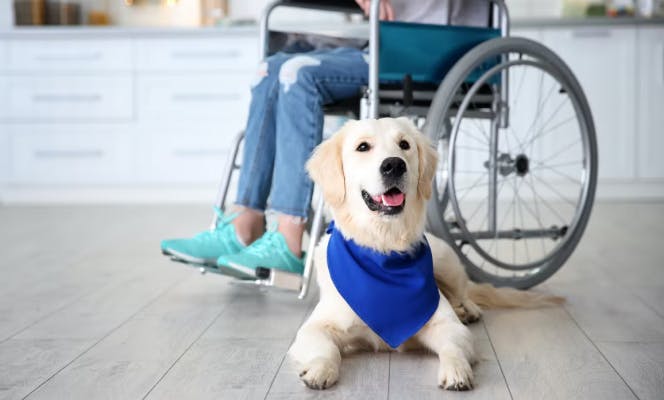 Life insurance for your service dog is a more complicated question. As noted above, a service dog is extremely expensive. Given the high costs, you need to consider a service dog more than just a faithful companion — they are also a long-term investment. Since these costs are often covered by insurance, it would make sense to consider life insurance for a service dog. In addition, home insurance and other forms of health insurance don't cover the costs of the death of a pet, making it even more important to examine this area.
Different pet insurance companies offer this product. However, life insurance for pets is largely unregulated. This lack of regulations means such an insurance product may have limited benefits and exorbitant costs. As such, while it is important to consider getting life insurance for your service dog, it may be more worth it to put money into an FSA for the unfortunate event that you need to purchase a new service animal.
Service dog insurance coverage is a complicated and complex area. While insurance will pay for a service dog, pet owners must determine the specific advantages of different insurance policies, manage medical bills, and work with outside organizations to afford a service dog. Service dog pet insurance is unquestionably complicated. The good news? Thousands before you have navigated pet insurance policies and afforded a service dog.
At Mawoo Pets, we're here to help. Interested in learning more about buying a puppy from a reputable breeder? Take our Dog Breed Quiz, and learn more about finding the right dog for you and your family.
Any questions? Get in touch!
We are here to support you every step of the way. Our concierge service is here daily to answer your questions!

Chat or speak with our team Mon-Sat 9a-9p ET.
Ready to find your new best friend?